One of Paddock Pointe's distinctive draws is its proximity to The Maryland Jockey Club at Laurel Park. Whether you're a fan of horse racing or seeking interactive family fun, the exhilaration of the races is steps away. 
Being close to the race track is particularly important for resident and thoroughbred horse trainer, Ricardo "Ricky" D'Angelo. A thoroughbred trainer for 20 years, Ricky's horse racing journey began in his home country of Venezuela. Over three years ago, his ambition led him to the United States—and to Laurel Park. To date, his career achievements include 220 starts and 34 first place wins. 
When his real estate search began, early mornings and late nights at the race course made location a key factor in his decision-making. Word-of-mouth led Ricky to Paddock Pointe, and the amenities made him choose it as home.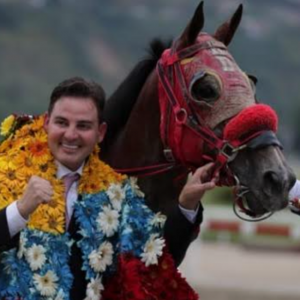 "When I went to see the Paddock Pointe development, I loved the community from the first day I came to visit and decided to buy there immediately," he recalled.
Residing in a townhome-style condo with his wife and son, Ricky loves the convenience of Paddock Pointe and its access to outdoor recreation, dining, and entertainment.
 "I'm very happy here. I've been treated very well. I like the city, the area, and the race track at Laurel Park. The race course has been very receptive to me. And I'm very happy with all the support given by the racetrack and The Stronach Group," he shared.
In a show of love for their new surroundings, the D'Angelos hope to open a Venezuelan restaurant in the neighborhood. Their creative cuisine—and commitment to this new neighborhood—will make the North Laurel community better than ever.
If you're looking for a great new home, lots of neighborhood amenities, and a convenient location, Paddock Pointe is your sure bet.