PADDOCK POINTE RECEIVES INDUSTRY AWARD OF EXCELLENCE IN COMMUNITY DEVELOPMENT
THE MARYLAND BUILDING INDUSTRY ASSOCIATION RECOGNIZES ACHIEVEMENTS 
LAUREL, Md. (November 22, 2021) – Paddock Pointe, a transit-oriented development in the heart of the Baltimore-Washington Corridor, has been recently recognized with a 2021 Maryland Building Industry Association (MBIA) Land Development Council Award of Excellence in Community Development. The MBIA Land Development Council award, a gold standard of achievement in the state, lauds excellence in residential and mixed-use land development.
Paddock Pointe, adjacent to the Maryland Jockey Club at Laurel Park, is revitalizing a section of Route 1 into a thriving corridor for work, life, and leisure. The community is being developed by 1/ST Properties with homes built by Ryan Homes, While Phase One is close to completion, the 63-acre community will eventually include 1,000 homes, along with potential for 650,000-square-feet of commercial space, and 127,000-square-feet of retail space.
"Our ultimate goal is to create a connected community; not a just a development," said Mark Thompson, 1/ST Properties Senior Vice President of Development. "We strive every day to create a community where people are linked to opportunities, amenities, and each other. We're honored that the MBIA has recognized our community impact in such a meaningful way."
Paddock Pointe features a strong amenity package, including access to nearly 25 acres of recreational space, a community garden, nature trails, a dog park, a family FIT Park, a kayak/canoe launch, and a one-acre Community Common. Paddock Pointe is served by a MARC commuter rail station and is steps from The Maryland Jockey Club at Laurel Park, offering year-round entertainment opportunities.
Since breaking ground in 2019, Paddock Pointe has become a cornerstone of revitalization along the Route 1 corridor. Prioritizing environmental stewardship, pedestrian safety, beautification, and community investment, Paddock Pointe is bringing new vibrancy to North Laurel.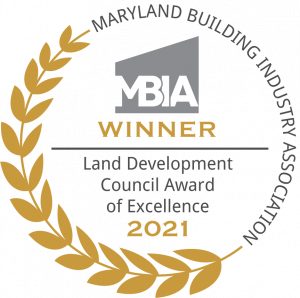 About Paddock Pointe 
Paddock Pointe at the Maryland Jockey Club is a mixed-use, transit-oriented community located in North Laurel, Maryland. Residents of Paddock Pointe can experience unique, close-by amenities such as dining and shopping, trails near the Patuxent River, easy access to the MARC train services, and a wide variety of public recreational activities.