Paddock Pointe Stream Restoration Initiative
If you're familiar with the new Paddock Pointe community in Laurel, MD, you are attune to all the revitalization efforts taking place to create a vibrant oasis for its residents and the surrounding community. This past week, the team at Paddock Pointe partnered with local non-profit Howard EcoWorks to revitalize a stream in need of rip-rap reinforcement.  
Howard Ecoworks has a dual mission to empower an underserved population through workforce development programs and also participate in environmental improvements across Howard County. Paddock Pointe shares in this passion to give back and saw the stream restoration project as an opportunity to join forces for the betterment of the community.
Reinforcement of this stream is crucial to ensure accessibility to local wildlife, so crossing paths with a turtle was not only a fun break from their hard work but also gave the group of young workers a chance to see the fruits of their labor in action.
Team members had to walk through dry spots of the stream to document where they could hear or see water flowing. Areas were then flagged to receive packing treatments to redirect the subterranean water flow onto the surface.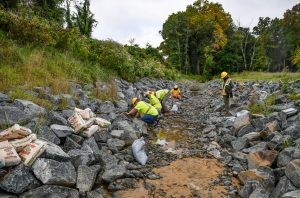 With the efforts of the Howard EcoWorks team as well as the SEH Excavation crew, the stream-flow is now able to travel subterranean and function properly. Paddock Pointe was proud to have this amazing initiative in our own backyard and grateful for all the hard work this group put in for the good of the neighborhood!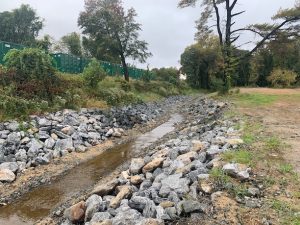 For more information on how Howard EcoWorks empowers our community and what they are doing to help restore our natural systems, check out this video and their website linked here. 
If you haven't had a chance to explore the new homes at Paddock Pointe in Howard County, we invite you to browse the exciting home designs by Ryan Homes and become a part of this flourishing new community.